Blessed Virgin, my good Mother, remember that I am still your child, a poor orphan; have compassion on me, teach me what I must do.
Saint Mary of Jesus Crucified (Mariam Baouardy)
Prières et Cantiques, Cahiers Réservés 1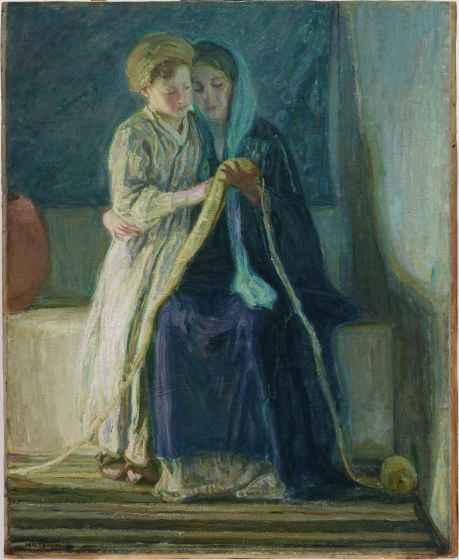 Access to the unpublished Cahiers Réservés courtesy of the Carmels of Bethlehem and Haifa.
Featured image: The gallery label from the Dallas Museum of Art sheds great insight into this masterpiece by Henry Ossawa Tanner:
Christ and His Mother Studying the Scriptures presents a dramatic, yet intimate scene. The figures of Christ and Mary clasp each other tenderly as they each hold the scroll from which they read, their physical bond an outward acknowledgment of their spiritual unity. Henry Ossawa Tanner's lush, densely painted surface is restricted to shades of blue, purple, and gold, bathing the figures in a warm, golden light, a metaphor for the illumination gleaned from the scroll. His combination of the broken brushwork, Tonalist colors, and Symbolist subject matter has been compared to that of Albert Pinkham Ryder, without that artist's obsessively overworked surfaces. Thanks to existing photographs, we know that Tanner used his wife and son as models for Mary and Jesus, giving the work a double resonance as both a meditative biblical scene and a tender family portrait.