Now I am no longer afraid, and I feel a new ardor in my heart and it will prevail. I will be a saint, I want to be a saint—besides, I say priest, I say missionary above all, I say saint—and if I say saint, why not say martyr. What an ideal, Mother! Priest, apostle, and martyr!
But how many graces, how many virtues, finally how much holiness to deserve this unworthy favor. And I have so little of all this—but I will have it—my sister and I will rise up to heaven and the sweet Queen of the Apostles and Martyrs will deign to receive me in her elite battalion.
Tell my sister again that my promise remains—it will remain eternal, since in heaven, for us priests, it will be a perpetual Mass: therefore, she always will be remembered in the memento, as will you, Mother, and your community—from now on, I will save a decade of the Rosary for her every day; and I will receive Holy Communion every month for her, most ordinarily on the first Friday or the first Sunday. For the month of October, I will make this Communion on Sunday, the feast of the Most Blessed Heart of Mary, which is the feast day of our patron saint at the Seminary. Please ask her to join me in this.
I will give thanks to her in the Eucharist for the prayers and sacrifices that she makes for me through her self-denial. But also her great desire will be fulfilled: I will be a priest, an apostle according to God's heart, I feel it—and together we will save dear souls for Christ Jesus. Such a beautiful procession at her entry into heaven, and for all eternity.
Oh, I am not under any illusion; the good that I will do belongs to her, and that is what St. Francis Xavier assured us: that most of the souls redeemed by his zeal owed their salvation to the prayers of the Carmelite nuns.
Seminarian Maurice Bellière
Letter to Mother Agnès of Jesus (excerpts)
23 October 1895
Read the context of Bellière's letter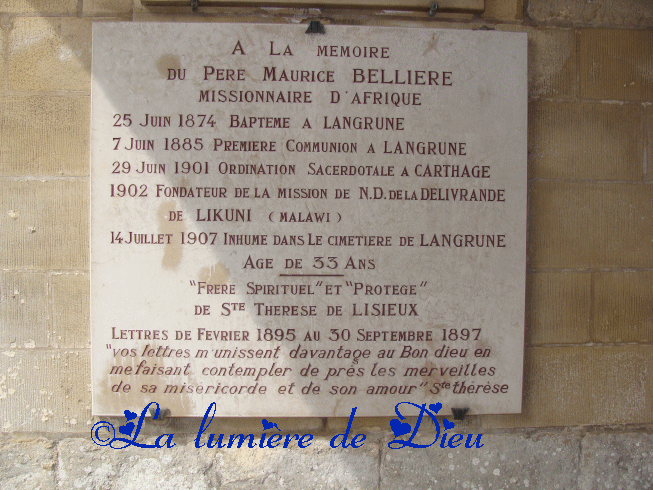 Translation from the French text is the blogger's own work product and may not be reproduced without permission.