Homily
GOOD FRIDAY
OF THE LORD'S PASSION
Silvio José Báez, O.C.D.
Auxiliary Bishop of Managua
Saint Agatha Catholic Church
Archdiocese of Miami
10 April 2020
---
After listening to the story of the Lord's passion and death, we turn to him and worship in silence. Jesus is disfigured by torture and atrocious suffering. There's only one small sign that allows us to identify him, the one that Pilate had ordered to be written and placed at the top of the cross: "Jesus the Nazorean, the King of the Jews" (Jn 19:19).
Without realizing it, Pilate was right. On that cross was the king—king of the Jews and king of the universe. A king without power. A king handed over to human powers, tortured, judged and condemned, with no power over anyone or armies to defend him.
When Pilate interrogated Jesus during the trial and asked him if he was a king, he answered, "You say I am a king. For this I was born and for this I came into the world, to testify to the truth. Everyone who belongs to the truth listens to my voice" (Jn 18:37).
Christ Crucified is a king who bears witness to the truth. His kingdom isn't exercised by dominating, but rather by revealing the truth. His Passion and Cross are the revelation of the truth of humanity and the truth of God.
The truth of humanity
Jesus is a witness to the truth of humanity. The works and words of Jesus were never tainted with falsehood or selfishness. He was neither mediocre nor aggressive. His life can be summed up in one sentence: "He went about doing good" (Ac 10:38).
Jesus was a friend and brother to everyone.
He washed his disciples' feet just like a servant to express the deepest meaning of his life as one of service and self-giving love (Jn 13:1–20). He compared himself to a grain of wheat that falls to the ground and dies, hidden, and trampled underfoot by humankind, yet it bears much fruit (Jn 12:24).
The Gospel of John introduces the story of the passion with these words: "having loved his own who were in the world, he loved them to the end" (Jn 13:1); to the end of love and the end of life, to the very last moment of his existence.
Jesus has shown the world the true way of being fully human through his very existence. —Bishop Silvio José Báez, O.C.D.

Tweet
Without knowing what he was saying, Pilate publicly acknowledged that fact when he presented Jesus to the crowd before condemning him, saying: "Behold the man!" a phrase that has become famous in Latin: ecce homo.
Jesus is the man. Jesus is the vocation of every human; whosoever is not like him is inhuman. Jesus is king because in his humanity he has "overcome the world" (Jn 16:33), a humanity that is greater and more powerful than the worldliness that diminishes and degrades human beings.
Now on the cross, at the culmination of his life, Jesus quietly passes away, crying out that the essence of life is loving and the fullness of existence is doing God's will. On the cross, Jesus is king because he was the richest human being in humanity, the greatest realization of man.
Jesus was so human, he revealed God through his humanity.
The truth of God
Jesus is a witness to God's truth. Jesus bore witness to the truth that shall never pass away, the truth on which we can rely, in which we can place our infinite trust, the only eternal truth: God's love for humanity. A love that is merciful, unconditional, and free. A love that is offered, not imposed; a love that is eternal but is also incarnate. A love that demands nothing in return, but gives everything without measure.
Jesus silently screams God's love on the cross. —Bishop Silvio José Báez, O.C.D.

Tweet
Jesus prefers to act as a condemned man, instead of condemning; he chooses to be silent, instead of declaring someone else guilty; he accepts an unjust death in order to offer life and to give life to everyone.
Jesus reveals to us that God isn't willing to destroy the wicked and unjust or to take vengeance on sinners. He shows us that God loves humanity and wants us to live; that he isn't vindictive, responding to the sins of humanity with punishment.
Our Way of the Cross: the pandemic
Today humanity contemplates the cross of Jesus while experiencing the Way of the Cross through a global pandemic. The God of life who reveals himself on the cross assures us that this isn't a divine punishment, nor is it the end of human history.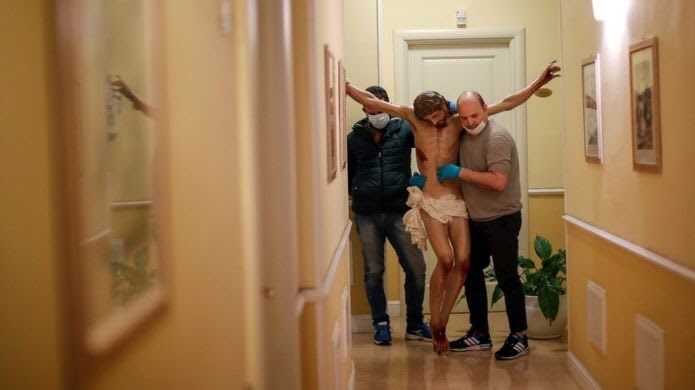 In the same way that God brought about the glory of the resurrection from Jesus' cross, from within this night that humanity is experiencing, God is mysteriously bringing about a world that is becoming more cooperative, healthier, and more humane.
In the very heart of the pandemic, we're discovering germs of light and life. —Bishop Silvio José Báez, O.C.D.

Tweet
We've been stripped of delusions of grandeur; we see how small and fragile we are, introduced into enforced equality. In the face of illness and death, we're all equal; we're learning that no one can live in health and safety by themselves alone, but that we depend on each other; we've realized that all can be saved only through the sacrifice of each and every one.
Christ Crucified shares humanity's Way of the Cross, imparting to us God's strength, comfort, and tenderness because he is on our side, suffering and fighting with us so that we may be free from danger.
In the midst of this painful global emergency, Christ Crucified gives us the certainty of the presence of God's love in the midst of suffering and death, who is forever close to and compassionate toward humanity, with an unwavering will to give us life.
The only thing

that overcomes evil

and can uproot it is love,

which sustains us

in the cross

and engenders life

within death.



We are certain that sickness, evil, sin, and death never will have the last word. Despite the darkness engulfing humanity, we know that God's last word to humanity forever shall be: forgiveness, health, love, and life.